Pillars
Catholic
As Catholics, we are devoted to the Magisterium of the Catholic Church, the Pope and the Bishops in union with him.
Parents
As taught by the Church, we recognize parents' role as primary educators of their children, fully aware of the difficulties this presents in secular society.
Online
It is our joy and obligation to uphold Catholic principles and standards; to work in an active and positive way to inform, support and collaborate with parents, teachers and leaders in the education of the children in the Archdiocese; and to ensure the growth and protection of high moral and ethical standards and the splendor of our Faith.
Purpose
CPO stands united with:
   Parents, in their sacred right and duty to direct and participate in the Catholic education of their children,
   Students, in their right to sound teaching of the Truth as handed down through Sacred Scripture and Tradition,
   Educators and school administrators, in their right to receive good resources and proper training to carry out their service of faithfully assisting parents in the formation of students.
Mission
To build a network of faithful, dynamic, and informed parents, students, and alumni, committed to working with Catholic schools, other programs of education and the community at large, to ensure the authentic teaching and protection of our Catholic Faith, and to address issues that undermine our Catholic Faith and Morals.
Motto
Maintain the Truth Lovingly and Always Love Truthfully. – Saint John Paul II
Dedicating our purpose and misson to…
St. Philomena, Patroness of the Children of Mary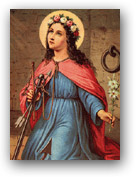 The very name of Philomena contains the words: filia luminis, daughter of light. She is the enlightener of a dark and corrupt age confounding the sneers of materialism. She is the Patroness of the Children of Mary. Her mission today is to draw us to the Immaculate Heart of Mary through imitation of her heroic virtues of purity, obedience and humility. Saint Philomena is an anchor of HOPE in this dark age of despair. Saint Philomena is the New Light of the Church Militant! This title was bestowed upon her by St. Jean Marie Vianney, heroic confessor and patron of all parish priests.
Saint Philomena, Virgin & Martyr
Board of Directors
Colleen Perfect – President
Reverend Robert Altier
Terese Jensen
Joe Kolles
Michele Lentz
Carley Sonnen
Anne Taylor
John Trojack
Kurt Virnig